Oriental:
Sounds and melodies from the Middle East! The most ancient art of dance, as its history is lost in the mists of time. According to some theories it comes from fertility rituals of central Africa, Middle East and Meditteranean or by rituals to honour the Godesses of fertility (such as Astarti, Venus, etc). Known for its healing properties, intially helped women in childbirth, but over the course of centuries it developed in a way of reaching harmony and internal beauty.
Teachers: Anna Dimitratou, Maria Magdalen.
Oriental Show:
A class that is dedicated into the Techniques that deal with the creation of Shows, how can stand on a stage and present ourselves as a completed professional dancer. This class is a combination of traditional oriental dance and dynamic movement. We will earn to choose the right accessories in order to win, fascinate and impress the viewer. We will be also taught the secrets for a successful recipe of an oriental solo presentation. Here we will be trained as solists. The course requires a good level of dancing skills.
Teacher: Anna Dimitratou
Oriental Fitness:
A unique combination that targets the perfect body as well as mental and physical exfoliation. It combines the oriental that is the oldest way of exercising the female body with exercise exercises that lead to an ideal result that you will find very soon. Our goal is to strengthen the "center" and also to give grace and flexibility to the movement with empowerment and breathing. The whole body is in action as we train our hands, feet, neck, shoulders, abdomen and back. And all ... dancing .... with music that takes you to the magic of the East !!
Teacher: Anna Dimitratou
Bollywood Dance
The bollywood dance can be sometimes cheerful and rythmic and other times erotic and nostalgic like we've seen it in Indian Movies. It combines positions from classic dances of India with moves from more tradditional Eastern dances, as well as elements of jazz, hip-hop and musical dance. This unique feel-good atmosphere created when dancing bollywood is what have made this dance so popular throughout the world! More information about 1st Bollywood Dance Academy Greece you can find here!
Teachers: Anna Dimitratou, Sumon Rudra
Bollywood Commercial:
A Bollywood lesson with influences from hip-hop, jazz, locking, popping, breakdancing, krumping but even ballet and latin dances. Generally commercial dance is a super sexy and super entertaining dance.
It helps us stimulate and improve our physical condition while improving our strength and balance. It is a very flexible program as it can be adapted to the needs of the participants.
Our goal is to unleash the dynamic energy of the original traditional Indian rhythms combined with the flow and grace of modern Bollywood for the balance of soul, mind and body ...
Teacher: Sumon Rudra
Classical Indian Dance (BHARATA NATYAM):
Bharata Natyam is a classical Indian dance that combines a purely rhythmic technique, with the theatrical expression and imitation of primeval myths, feelings and ideas. The rhythmic tapping of the feet The geometry of the body and the speed, The symbolic language of the face amd the hands The breath and the cycle of motion and immobility The musical virtuosity and the speech, The theatrical description of legends, unfold our personal myths in a psychosomatic process of purification and balance. The means is always Dancing, Indi-coloured, happy and deeply therapeutic!
Teacher: Kleoniki Karahaliou
Tribal Fusion Bellydance:
Teacher: Elisavet Dakoutrou
Tribal Fusion Bellydance is a modern western dance form created by blending American Tribal Style (ATS) and American Cabaret bellydance, dance styles developed in America that have roots in North African and Middle Eastern dances.
Very often dancers incorporate elements from various dance forms such as hip-hop, popping, modern/contemporary dance, flamenco, classic Indian dance etc.
This class begins with a thorough warm-up to prepare the mind and the body and continues working on the technique of tribal fusion through exercises and combinations for dynamic and clear isolations as well as lyricism and flow in motion.
The way of work that will be used will also have elements from the contemporary dance philosophy so that the student acquires a multifaceted image and sense of how he/she moves.

The class ends with the inclusion of the material been worked in choreography and with a cool-down to restore the body to its original state of calm.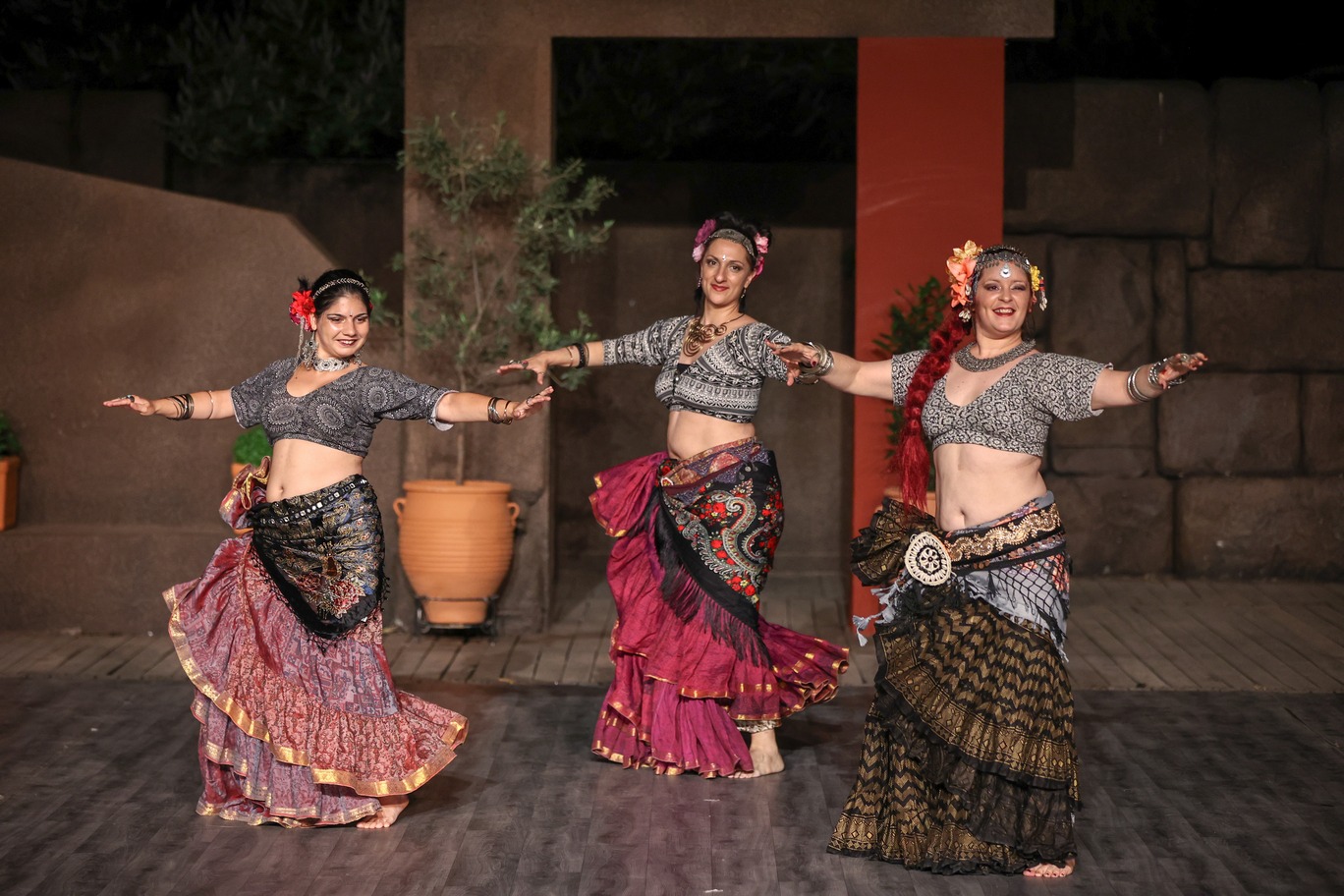 FAT CHANCE BELLY DANCE® STYLE/FCBD®S
(AMERICAN TRIBAL STYLE/ATS)
Teacher: Maria Iosif
FCBD®Style is one of the most modern forms of Belly Dance and the basis for many of its newer forms, such as tribal fusion belly dance. In every aspect, we have a marriage of elements of the traditions and cultures of North Africa and India, of Belly dance and Flamenco and many other influences. It is a dance language, a system of steps and formations, aimed mainly at group improvisation, and is aimed at all ages and body types.
In the course, we will focus on the technique and use of steps and formations, on the choice of music, on the technique and logic of improvisation, choreography and communication, we will learn how to handle the props, choose the appropriate music, to combine and choose the right accessories and to make correct and beautiful suits..and to build a beautiful performance..We will strengthen our body, our perception of space, our expressiveness and our femininity.
Indian Fusion Bellydance:
A unique dance class that combines harmonically Classical Indian dances (Kathak, Odissi, Bharatanatyam) with Middle Eastern dances. We will focus in arm patterns as also in basic mudras of Indian dances. We will then work on Bellydance movements and technique. The result is amazing Indian Fusion Choreographies Teacher: Anna Dimitratou
Oriental for Kids:
Always with respect and sensitivity to the age of children, this lesson will teach movements of all Oriental and musical rhythms of the Orient on classical and modern songs, as well as how to use the props in a choreography. The purpose is for children to gain musicality, synchronicity, elasticity in the body and above all to have fun !!!!! The lesson starts with a 10-minute warm up on Oriental basic moves. In the next 45 minutes will be taught technical and basic principles of this dance, small dance combinations as well as choreographies that will be presented during the year. The lesson is completed with rehabilitation and play, which is an essential part of children's education.
Teacher: Anna Dimitratou
Bollywood Dance Kids
Get ready to shake, twist and hop to the rhythmic beats of Bollywood music! At Bollywood Kids your kid will learn to dance on the latest and the most popular Bollywood numbers. This program will help them shape & train their body to be able to learn any Dance form at a faster and better pace in future. The dance lessons are a fusion of Indian and western contemporary dances. Children will actively engage in various forms of movement through the exploration of another culture. Each class is 1 hour long with 2 3-min breaks for rest and water. Class Format: • Each session will start with a warm-up exercise/play routine for first 10 minutes. • For the next 45 minutes the kids will be taught a choreographed dance routine on the latest Bollywood numbers. • The session will end with a 5 minute cool down/play.
Teacher:Anna Dimitratou.
Hip Hop Kids:
The Street dance refers to dances that have evolved mainly in the streets but also in parties, clubs and schools. The main styles under term of Street Dance is Hip Hop, Popping in and Breakdance. Although considered improvisational dances, expressed through a series of steps and techniques which often encourages communication and interaction between the audience and the other dancers.
Teacher: Ismini Stamatogianni
Pilates:
"In ten programs you will notice the difference, in twenty you will feel it and in thirty, your body will have changed completely." This is what Joseph Pilates used to say referred to his method. Pilates method is a method of physical fitness in which the body regular exercises as a whole, from the deepest to most superficial muscles, and its effects begin to appear shortly. Helps correct posture, it is perfect for all ages and adapts to the needs of each body.
Teacher: Anna Dimitratou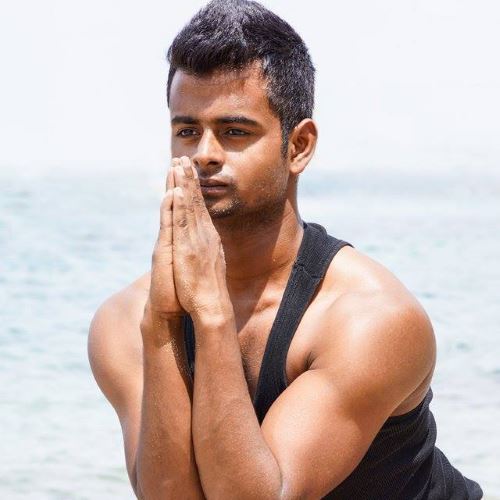 Yoga:
It will be a slower-paced flow class geared towards those new to yoga or preferring a slightly gentler class. This class uses a combination of simple postures, movement and breath to work on strength, flexibility and balance. The focus on alignment for every body type will allow the beginners to safely learn the basics. Later after few weeks, the students shall be encouraged to explore getting upside-down and may incorporate some arm balances and deeper backbends. This shall be recommended to only those who feel confident, safe, and strong throughout classic sun salutations. This will be an introductory class for those who have little to no experience with yoga, or for experienced students who want to bring it back to basics. Yoga Mats shall be provided by the school.
Teacher Sumon Rudra