When you dance, you write upon the earth what your soul wants to say.
~C.P. Cavafy
Our Artistic Studio
Oriental Expression
A
rtistic Studio Oriental Expression is a member of International Dance Council (CID – UNESCO) and achieved recognition from the beginning by winning the First place at the International Belly dance Festival "The Nile Group Oriental Dance Competition" which was held in Cairo in April of 2009. Moreover, in April of 2012, Bollywood Team of the Studio wins the 1st award and in April of 2013 the Oriental team wins the 2nd prize at 4th and 6th Hellenic Dance Competition in same order. President and artistic director of Artistic Studio Oriental Expression is Anna Dimitratou, actress, dance teacher (Bollywood, Oriental), choreographer and Pilates instructor.
Studio's presence at the Media and it's professional dancing teams in Oriental and Bollywood (coordinated by Anna Dimitratou), has been very important and have participated in many TV shows like "Mega me mia", "Eleni", "Omorfos Kosmos2", "Sta Kala Kathoumena", "One Mark Show", "Dancing with the Stars 3", "Kalo Mesimeri" (Crete Tv), "Greece's Colors" Live and more.
Also extensive reports have been made for our work on the news by Mega channel, Star channel, Antenna channel, etc., alongside with reports and tributes about Studio's work on the daily press.
Anna Dimitratou
Oriental & Bollywood Teacher
---
Anna is an Actress, Oriental and Bollywood dances instructor, pilates trainer, founder and artistic director of "Artistic Studio Oriental Expression", "1st Bollywood Academy in Greece" and "Oriental Expression Awards", an institution for International Bellydance Competitions. She is also the organizer and artistic director of "Bollywood and Multicultural Dance Festival" which is taking place every year with huge success. "Bellydance Athens Greece" is also one of her kids! Anna was born in Athens, Greece. She got involved in theater since she was 14 and finished her Bachelor's in "Iasmos Drama School" (2000 – 2003). She has performed in several performances in the theater and has participated in short films and Tv-series. At the same time she was involved with dance. For many years she has been taught contemporary, classical and modern dance as well as Oriental dances (Oriental, Bollywood, Bharatanatyam, Kathak). She also has a degree in pilates and is a pilates trainer. She has choreographed and presented Bollywood and Oriental, for performances, theater and TV shows. She has been taught Oriental in Egypt and mainly at the great Nile Group Festival. She studied traditional and modern Arabic dances, such as Saidi, Khalijee, Raqs Sharki, Balladi, Nubian, Ghawazee, Shaaby but also modern Oriental dance styles (including Tribal Fusion), with teachers such as Mahmoud Reda, Farida Fahmy, Osama Emam, Lubna Emam, Tito Seif, Ahmed Fekry, Randa Camel, Mohamed Shahin, Camelia of Cairo, Sadie Marquardt and Pricne Kayammer. In 2007 she became a member of the International Dance Council (CID -UNESCO) and founded the "Artistic Studio Oriental Expression" in Athens, where she began teaching Oriental dance and performing in Greece and abroad. Through her collaboration with the International Dance Council she is pleased to grant International Dance Diplomas every year. She competed in various competitions in Greece and Egypt, and her team won the first prize at the "The Nile Group Oriental Dance Competition" held in Cairo in 2009. In 2013, Anna established the "1st Bollywood Dance Academy Greece". Since then she has invited many Indian teachers and choreographers to train the students of the Academy. Ιn April 2013 she organised the 1st Bollywood Flash mob in Greece, at Kerameikos Square, on the occasion of the celebration of the World Dance Day. She formed a professional Bollywood team and has been presenting Bollywood dance since 2013 in various festivals and on famous Greek TV shows and has featured in "People" and "Lifo" magazines. Anna has traveled several times to India where she has taught Bellydance and Bollywood Dance in Universities, Colleges, Dance Schools and Groups. She has also been traveling every year all over Europe to teach and perform. She has also created the "Magnunas" and "Bellydance Queens" oriental groups that have won medals and awards at International Oriental Competitions. In addition, she has created and manages on social media the accounts "Bellydance Athens Greece" and "Bollywood Greece" which are constantly updated with all her dancing activities. In 2016 she created another Institution, the Oriental Expression Awards, which organizes the International Oriental Competition "Spring International Bellydance Competition" which takes place every spring, as well as the "International Bollywood Dance Competition", held annually in the context of "Bollywood and Multicultural Dance Festival". Famous Bellydance and Bollywood teachers and judges are invited to these great events from all over the globe. President of these Competitions is Anna Dimitratou. Anna continues her journey to Oriental Dances, by traveling and teaching in many cities in Greece, Europe and India.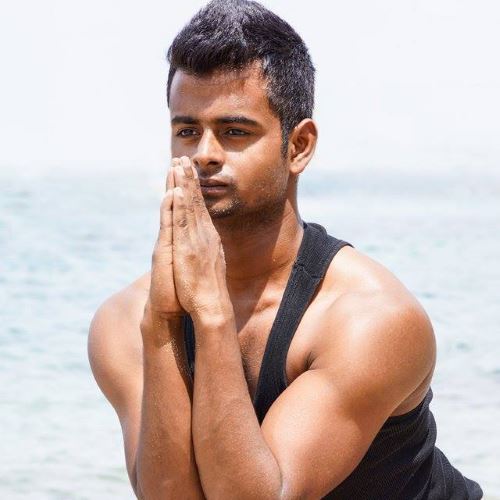 Sumon Rudra
Indian teacher choreographer and performer
---
Sumon Rudra is an Indian choreographer, teacher and performer currently based in Athens, Greece. He holds two diplomas in Contemporary dance and is the first Indian dancer to receive a Diploma in Contemporary Dance from the Ministry of Culture, Greece in 2017. He has formally trained in Ballet, Contemporary, Bharatanatyam and Kalaripayattu over the years of his dance education. An ardent Bollywood lover, he became an integral part of the 1st Bollywood Dance academy in Greece, where he works as a teacher, choreographer and performer. He was an assistant choreographer and performer in the 1st Bollywood Musical in Greece and has been invited to teach and perform Bollywood dance in many events and festivals in Greece and abroad like France, Bulgaria and Finland among others. He has performed in various prestigious shows in Athens including major Greek TV Channels like Mega, Epsilon and Star. He is the first Indian choreographer in the biggest dance reality show "So You Think You Can Dance" Season 3 in ANT1 channel where he introduced Bollywood into this format of the show and choreographed the Semifinals and Grand Finale of the show. He along with the professional team from the 1st Bollywood Dance Academy were the first Bollywood dance group to make it to the semifinals of "Greece Got Talent" in 2017. Sumon is teaching and Choreographing Bollywood dance and contemporary dance classes in various dance schools in Athens. He is also extensively traveling, teaching workshops and performing in various International Dance Festivals in all over Europe. He has taught over 70 dance workshops in 25 cities worldwide.
Elisavet Dakoutrou
Tribal Fusion Bellydance
---
Elisavet Dakoutrou was born and raised in Athens where she begun classes of classical ballet at an early age. In 2006, she graduates from "Niki Kontaxaki" -N.Bakali professional dance school and begins not only her ongoing teaching career in classical and contemporary dance, but also as a dancer by participating in various shows and Festivals like Greek Choreographers Festival, Athens Fringe festival, Athens Video Dance Project etc.
Lately, she works intensively on tribal fusion styles by attending various dance workshops with accomplished teachers like Rachel Brice, Kami Liddle, Mardi Love, Lamia Barbara and many more, and by performing in many festivals of the kind like Tribalnatyam Gr, TribalAthens Fest etc.
Maria Magdalini
Oriental
---
Maria-Magdalini Pritsa was born and raised in Athens, Greece. At the age of 4 she started rhythm and continued with courses of ballet, modern, hip hop and Greek traditional dances. Her first contact with Oriental and the Eastern Dances in general was in 2010.
She had followed lessons and seminars of modern jazz, pilates, yoga, bollywood, oriental and tribal fusion with distinguished dancers and choreographers from Greece and abroad (Anna Dimitratou, Julia Farid, Sonia Ochoa, Osama Emam, Lia Verra, Saidi Marquardt, Erifili Nikolakopoulou). She has completed her studies in oriental dance at the Artistic Studio Oriental Expression next to Anna Dimitratou and has obtained a Diploma certified by the International Dance Council (CID).
Kleoniki Karachaliou
Classical, Indian Dance
---
Kleoniki Karachaliou was born in Athens in 1981. She studied acting in Nelly Karra's Dramatic School and Indian classic dance in Greece, France and India. As an actress, she has collaborated with the National Theatre, the "Labeti" Theatre, the Megaron Concert Hall, the "Morfes Ekfrasis" Theatre, and the "Mavromichali Studio" Theatre. During the last two years she is a member of the Artika company, performing in theatrical acts for infants. She attended seminars regarding educational drama and music-movement education with Dimitris Adam (director) and Eleni Karagiorgi (actress and director), the Orff Approach with Thomas Kindinis (actor and director) and Maria Filianou (musician, at the National Conservatoire in Nea Smirni). Furthermore, she attended dance courses regarding dance for infants with Vitoria Kotsalou (dancer and choreographer). She teaches educational drama and music-movement education at "Morfes Ekfrasis" Theatre/Company (2007-2014), "Athenaeum Conservatoire" (2014-2016), Lia Delimichali's foreign languages school in Salamina (2014-today), "Filarakia" pre-school (2015-today) and at "Happy Mornings" pre-school (2016-today). Besides, she is Indian dance instructor at "Artistic Studio Oriental Expression" (2014-today) and at "Ayurveda Hellas Centre" (2017-2018).
Ismini Stamatogianni
Bollywood Dance & Hip Hop Kids
---
Ismene Stamatogianni was born and raised in Athens. She started dancing at the age of 4 and studied at the professional schools "Rallou Manou" and "Nikis Kontaxakis". She then obtained a State Diploma in Applied Dance Arts. From an early age she played a leading role in dance performances as a dancer and choreographer. She has performed and choreographed as part of the Festival of Municipality of Vyronas and has participated in theatrical performances and musicals. She attended a number of workshops in classical ballet, contemporary dance, hip-hop and more specialized dance styles such as hand techniques, Bollywood introduction, hip-hop technique and choreography and jazz training. She participated in the Bollywood & Muticultural Festival for seven consecutive years and took part in the 2nd International Bollywood Dance Competition (2016), where he won the second place.
Paraskevi Kapa
Tribal Fusion
---
Paraskevi Kapa studied ballet (RAD system) for 15 years and currently she practices yoga and studies contemporary dance. After years of dancing, she discovered tribal fusion and devoted herself to learning and then teaching this fascinating dance form. In 2019, she participated in the Athens Video Dance Project with the video dance 'k.a.' and in the Emerging Artists Festival at 'The Train in Rouf' with the duet 'in BEtween'. She is often invited at the European Music Day with NegliZen, the music band she collaborates with. She has participated in solo and group performances in various theatres and art spaces in Athens (Vault theatre, Communitism, Fine Arts School theatre, Empros theatre etc). She performs often at tribal fusion festivals all around Europe (Tribal Fusion Express in Rome, Tribal Fusion Remix in London, Fusion Faire in Zagreb, TribalX in Lisbon etc). Every year she attends the Orchidaceae Dance Intensive, which combines tribal fusion with contemporary dance and street dance techniques. She is a previous member of the Juniper Collective by Alexis Southall.
Maria-Eirini Chatzipanagioti
Oriental
---
Maria-Eirini Chatzipanagioti was born and raised in Athens. At the age of ten, she started her dance studies. She has engaged with various dance types such as Greek traditional dances, latin, hip hop as well as with pilates and yoga gymnastics. During the last five years she has been professionally engaged in oriental dance together with her university studies in oenology and tribal fusion belly dance. She has completed her studies in oriental dance at the Artistic Studio Oriental Expression next to Anna Dimitratou and has obtained a Diploma certified by the International Dance Council (CID) in 2021. She has been attending seminars by internationally accredited teachers and choreographers while she's continuing her studies. She has been awarded in international oriental contests. She dances in various events and festivals and she is an active member of the professional team of Artistic Studio Oriental Expression.