When you dance, you write upon the earth what your soul wants to say.
~C.P. Cavafy
Our Artistic Studio
Oriental Expression
A
rtistic Studio Oriental Expression is a member of International Dance Council (CID – UNESCO) and achieved recognition from the beginning by winning the First place at the International Belly dance Festival "The Nile Group Oriental Dance Competition" which was held in Cairo in April of 2009. Moreover, in April of 2012, Bollywood Team of the Studio wins the 1st award and in April of 2013 the Oriental team wins the 2nd prize at 4th and 6th Hellenic Dance Competition in same order. President and artistic director of Artistic Studio Oriental Expression is Anna Dimitratou, actress, dance teacher (Bollywood, Oriental), choreographer and Pilates instructor.
Studio's presence at the Media and it's professional dancing teams in Oriental and Bollywood (coordinated by Anna Dimitratou), has been very important and have participated in many TV shows like "Mega me mia", "Eleni", "Omorfos Kosmos2", "Sta Kala Kathoumena", "One Mark Show", "Dancing with the Stars 3", "Kalo Mesimeri" (Crete Tv), "Greece's Colors" Live and more.
Also extensive reports have been made for our work on the news by Mega channel, Star channel, Antenna channel, etc., alongside with reports and tributes about Studio's work on the daily press.
Anna Dimitratou
Bollywood Teacher
---
Anna Dimitratou is an Actress, Dancer, Choreographer, Bollywood and Middle Eastern Dances Teacher, Founder of the 1st Bollywood Dance Academy Greece, Director of Artistic Studio Oriental Expression and Organizer of the only Bollywood & Multicultural Dance Festival in Greece. She is also the President of the "Oriental Expression Awards" that organizes annual International Bellydance and Bollywood Dance Competitions in Greece. She conducts Bollywood Dance seminars across the globe and she was the first Greek teacher to be invited in India to teach in Universities, Colleges and Dance schools, as well as to perform in various shows. She is the leader of the greatest professional Bollywood Dance team in Greece. With her team they have made several appearances in Greek television shows and made it to the semifinals of "Greece Got Talent 2017". Moreover, she has created the "Be a Bollywood Dance Professor" Program, that offer students Professionals Diplomas in collaboration with Indian Master Teachers. Don't miss the opportunity to learn from the most renowned Dance Teacher in Greece!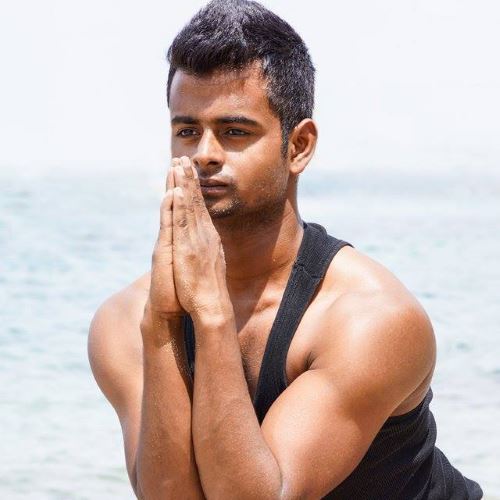 Sumon Rudra
Indian teacher choreographer and performer
---
Sumon Rudra was born and raised in Rourkela, India. Despite holding a Bachelor's degree in Biotechnology Engineering he decided to pursue dance as a career. He started training in contemporary dance in 2010 and went on to join Attakkalari centre of Movement Arts in Bangalore in 2012. He trained extensively in Kalaripayyattu un byder Master Dil Sagar. He also trained himself in Bharatnatyam, Ballet, Contemporary dance techniques and Yoga. After graduating with a Distinction from Attakkalari, he participated in the Dance reality show Dance India Dance Season 4 where he presented his Kalaripayattu Act and was among the finalists from the east zone auditions. He has been practicing and conducting workshops on Kalaripayattu in and around his city in India. His love for Contemporary dance brought him in Athens as he was selected in the prestigious National School of Dance (KSOT), Greece, where he studied with scolarship for one year. This season he continues his studies in Higher Professional School of Dance "AKTINA". A Bollywood lover, he is now a part of the 1st Bollywood dance academy Greece and working with the professional team and the Artistic Director Ms. Anna Dimitratou. He is continuing his research to find a way of incorporating Kalaripayattu in Contemporary dance techniques.
Elisavet Dakoutrou
Tribal Fusion Bellydance
---
Elisavet Dakoutrou was born and raised in Athens where she begun classes of classical ballet at an early age. In 2006, she graduates from "Niki Kontaxaki" -N.Bakali professional dance school and begins not only her ongoing teaching career in classical and contemporary dance, but also as a dancer by participating in various shows and Festivals like Greek Choreographers Festival, Athens Fringe festival, Athens Video Dance Project etc.
Lately, she works intensively on tribal fusion styles by attending various dance workshops with accomplished teachers like Rachel Brice, Kami Liddle, Mardi Love, Lamia Barbara and many more, and by performing in many festivals of the kind like Tribalnatyam Gr, TribalAthens Fest etc.
Maria-Magdalini Pritsa
Oriental for children
---
Maria-Magdalini Pritsa was born and raised in Athens, Greece. At the age of 4 she started rhythm and continued with courses of ballet, modern, hip hop and Greek traditional dances. Her first contact with Oriental and the Eastern Dances in general was in 2010.
She had followed lessons and seminars of modern jazz, pilates, yoga, bollywood, oriental and tribal fusion with distinguished dancers and choreographers from Greece and abroad (Anna Dimitratou, Julia Farid, Sonia Ochoa, Osama Emam, Lia Verra, Saidi Marquardt, Erifili Nikolakopoulou).
Kleoniki Karachaliou
Classical, Indian Dance
---
Kleoniki Karachaliou was born in Athens in 1981. At the age 13 she began theatre at Alimos Workshop with director Barbara Duke and after school joined the Drama School "Authority" Nelly's Karra and graduated in 2002. In 2003 she began her studies on Indian dance with Leda Shantala.
She has attended seminars in Greece with Anthi Andreopoulou (technique Alexander), Voula Xyki (Body Knowledge, Inner Smile, 6 therapeutic sounds), Leda Shantala (Poetic Body) and Sri Venudas (Karnataka Song). In Paris Indian Dance with Sharmila Sharma (Kathak) and Maria Kiran (Bharata Natyam) at the School Mandapa and in Rajasthan India with Hermant (Kathak).
Niki Louladaki
Dance Teacher
---
She studied dance in Rallou Manou and D. Grigoriadou and music at the Greek Conservatory. She has a degree in teaching classical ballet, contemporary dance and rhythm from the Higher Professional School of D. Grigoriadou. and a BA in piano and music theory. Also has a degree in teaching Vaganova ballet system.
Since1992 she has attended Physical theater seminars and worked as a performer with the Song of the Goat physical theater company in Grotowsky studio of Poland. She is a founding member and basic choreographer in Metehmio physical theater company.
Ismini Stamatogianni
Bollywood Dance Teacher
---
Ismene Stamatogianni was born and raised in Athens. She started dancing at the age of 4 and studied at the professional schools "Rallou Manou" and "Nikis Kontaxakis". She then obtained a State Diploma in Applied Dance Arts. From an early age she played a leading role in dance performances as a dancer and choreographer. She has performed and choreographed as part of the Festival of Municipality of Vyronas and has participated in theatrical performances and musicals. She attended a number of workshops in classical ballet, contemporary dance, hip-hop and more specialized dance styles such as hand techniques, Bollywood introduction, hip-hop technique and choreography and jazz training. She participated in the Bollywood & Muticultural Festival for seven consecutive years and took part in the 2nd International Bollywood Dance Competition (2016), where he won the second place.
Kalypso Mani
Bellydance
---
Kalypso (Giota Mani) is an instructor, choreographer and dancer of Modern Oriental Dance/Tribal Fusion Bellydance, and the founder of Somnia Troupe and Amaroses Troupe. She's a member of CID – UNESCO (International Dance Council) and has an internationally recognized Diploma of Oriental Dance Diploma by CID – UNESCO. She started her dance studies at the age of three with classical ballet (I.S.T.D. & R.A.D.), Modern Theater Dance, Jazz and Karakter and followed them through for more than 13 years. She had also taken classes of Flamenco, Bollywood, Kung Fu, Yoga, Pilates and she has also knowledge of musical instruments – classical/electrical guitar and Darbuka (basic oriental rhythms). On the course of this journey she discovered Oriental Dance and she was amazed by its expressivity and femininity. She was so charmed that she followed it to every path until she discovered Tribal Fusion Bellydance. She extended her knowledge on this mysterious, sensual dance and she realized her body's unlimited capabilities on movement and expression. For that reason, she has completely dedicated to this dance. She also works as a Dance Instrunctor and offers lessons and seminars in and out Athens.
Paraskevi Kapa
Tribal Fusion
---
Paraskevi Kapa studied ballet (RAD system) for 15 years and currently she practices yoga and studies contemporary dance. After years of dancing, she discovered tribal fusion and devoted herself to learning and then teaching this fascinating dance form. In 2019, she participated in the Athens Video Dance Project with the video dance 'k.a.' and in the Emerging Artists Festival at 'The Train in Rouf' with the duet 'in BEtween'. She is often invited at the European Music Day with NegliZen, the music band she collaborates with. She has participated in solo and group performances in various theatres and art spaces in Athens (Vault theatre, Communitism, Fine Arts School theatre, Empros theatre etc). She performs often at tribal fusion festivals all around Europe (Tribal Fusion Express in Rome, Tribal Fusion Remix in London, Fusion Faire in Zagreb, TribalX in Lisbon etc). Every year she attends the Orchidaceae Dance Intensive, which combines tribal fusion with contemporary dance and street dance techniques. She is a previous member of the Juniper Collective by Alexis Southall.